Academic Advising
Legal Studies Advising Hours:
Remote Advising - Appointments via Slug Success
Monday / Wednesday: 9am-4pm
Tuesday / Thursday: 1pm-4pm
**Make an appointment on Slug Success. A Google Calendar online invite will follow.
Remote Advising - Drop-In
Tuesday: 9am-1:00pm
Thursday:9am-1:00pm
Friday: 9am-1:00pm
**Drop-in advising: Please sign in using our online check-in form. Once you sign in, use this link to add yourself to the google calendar and receive a zoom link. 
Students are encouraged to use the appointment link to check the most up to date drop-in hours each week.
---
Online Peer Advising Hours for Fall 2021 
Peer advisors are curent students who can answer any questions about major and minor requirements, assist with academic planning, help you prepare declaration of major/minor paperwork, and provide guidance on UCDC, UC Sacramento, and Study abroad program requirements. Peer advising hours are on a drop-in basis. Peer advisors can be reached via Google through chat and also on video (Hangouts). Add us to your Google contacts, lgstpoli@ucsc.edu. Add instructions can be found here.
Remote Advising:
In-person Advising (In grass area canopy near the Merrill Cultural Center)
Wednesday: 1pm-4pm
Friday: 1pm-4pm
**Please use this link to attend remote advising.  For both remote and in-person advising, please be sure to check-in using our online sign-in sheet prior to your meeting.
---
Meet our Advising Team!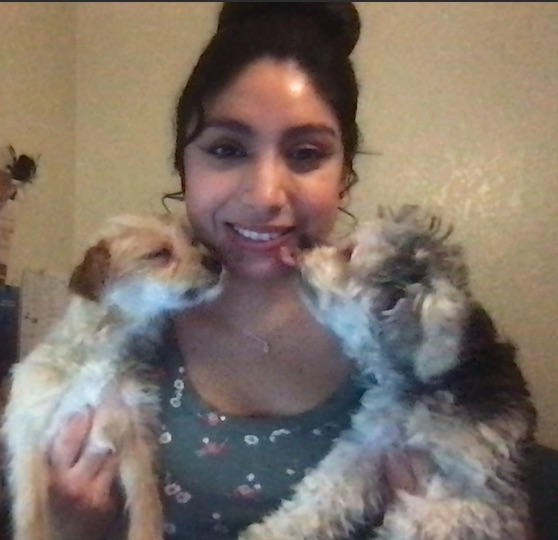 Yanin Monter (She/ Hers)
Hi! My name is Yanin and I am the Undergraduate Advisor for Legal Studies. I have 2 dogs who I spend most of my time with and I enjoy working with students. 
Peer Advisors - Coming soon! 
---
Fall 2021 Declaration of Major deadline Friday, October 22nd, 2021.
If you intend to declare our major make sure to 1) contact Peer Advising at lgstpoli@ucsc.edu to fill out the paperwork needed and 2) make an advising appointment with Yanin Monter on Slug Success. Make sure to have all your forms filled out prior to your advising appointment. If you are already declared in a major please obtain a signed academic plan from your major advisor and connect with the Legal Studies advisor to get declared. 
Senior Check Form
If you are a student with junior standing be sure to pick up and complete the Senior Check form at the end of your junior year. Forms are located outside Merrill 27.
Writing Tutor Assistance
Learning Support Services offers free drop-in writing tutoring. Check the website for writing and other tutoring services and schedules.
Learning Accommodations
Legal Studies Program staff and faculty are responsive to disabled students' concerns and special needs. We work with the Disability Resource Center (DRC) to ensure appropriate accommodations. If you need assistance, please contact the DRC directly at (831) 459-2089.
See
Also